About UCIS Hoop History
The UCIS basketball program began in 1920, soon after the school itself began. The colors blue and white were selected accidentally, in a now-famous incident: With the mascot of a woodchuck (which is a gopher-type animal that lives in many of the lava rocks around UCIS), UCIS should have received brown and orange uniforms and school colors, but the University of Sky Montana, which also began in 1920, ordered uniforms at the same time. The colors were mixed up, and since then, Sky Montana has been brown and orange, while UCIS remained blue and white.

The Woodchucks first won the Western division in 1969, after which we've had a more powerful recruiting presence.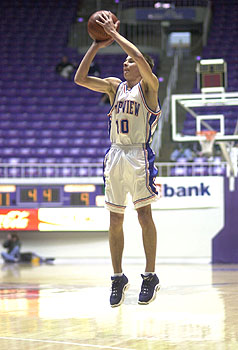 Photo: Dave Stringham, going up for the game-winning jump shot.